Find: Area / Location / Villa
Crete villa rentals are a great idea for anyone thinking of visiting this amazing island. Hotels are often the first option that people consider when they are heading to Crete on holiday, but you can get so much more when you rent a villa, and you'll end up having a better holiday as a result. Here are a few of the main reasons that Crete villa rentals beat hotels every time.
Plenty of space
By renting a large villa in Crete and you will get lots of spacious rooms all to yourself, rather than having to spend all the time in the bedroom of a hotel. You can find villa rentals in Crete which meet all styles and budgets, in order to choose one with a living room, fully-equipped kitchen, outside terrace and a private swimming pool. By this way you will have plenty of space to enjoy without having to leave your accommodation and especially if you have children.
Privacy
When you go on holiday you will want to get away from it all, and by renting a villa in Crete, will allow you to do exactly this. By renting a room in a hotel you will be surrounded by other people all the time of your stay, but by renting a villa you won't have anyone either hotel staff or guests bothering you, allowing you to escape properly with just your family or group of friends.
Amazing Locations
As well as greater privacy with our villas in Crete, you can choose the exact location you want for your villa. Most of these villas are located in amazing places, providing you with a greater feeling of escape and breathtaking views. Whether you stay in a villa looking down over the blue bay below, or find yourself in the heart of the countryside overlooking a tiny olive grove, you choose exactly what you want from your villa.
Cook Food Yourself
Eating out is one of the best things about a holiday in Crete, but sometimes you might want to stay in instead, especially for breakfast and smaller meals. Crete villa rentals always have a kitchen included so you can buy some local food and prepare it yourself without having to go to a restaurant to eat.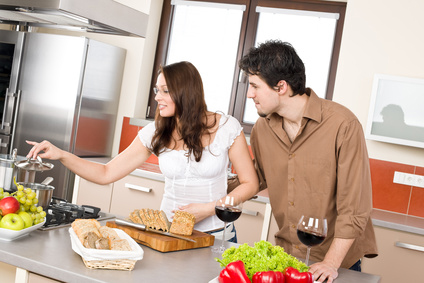 Luxury Villas for Less
If you are travelling as a family or group, you can enjoy a luxury villa for less than you would pay for a hotel. With a hotel you will be paying a lot of money to put up a whole group of people, but with a villa you only pay for the one place, and it normally works out much better value in the end. On top of that you'll get all the benefits that come with a villa, and the only difference will be that you'll have more money to spend on activities, tours and eating out.